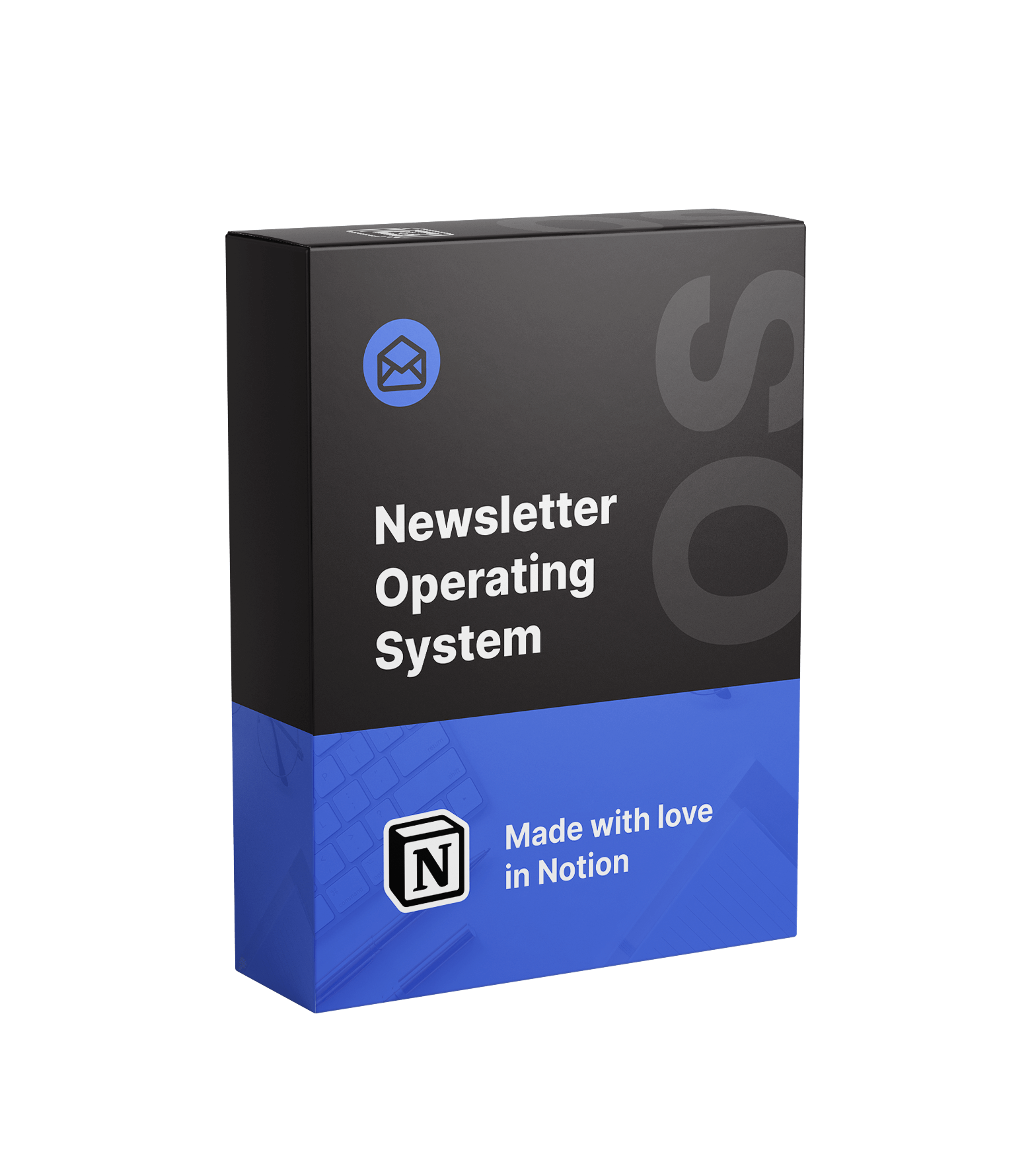 Master the art of creating & running a newsletter
Curate, write, grow and monetize your newsletter with this comprehensive system
A NOTION DASHBOARD by @JanelSGM
Guaranteed to help you build your newsletter, or I'll refund you 100%!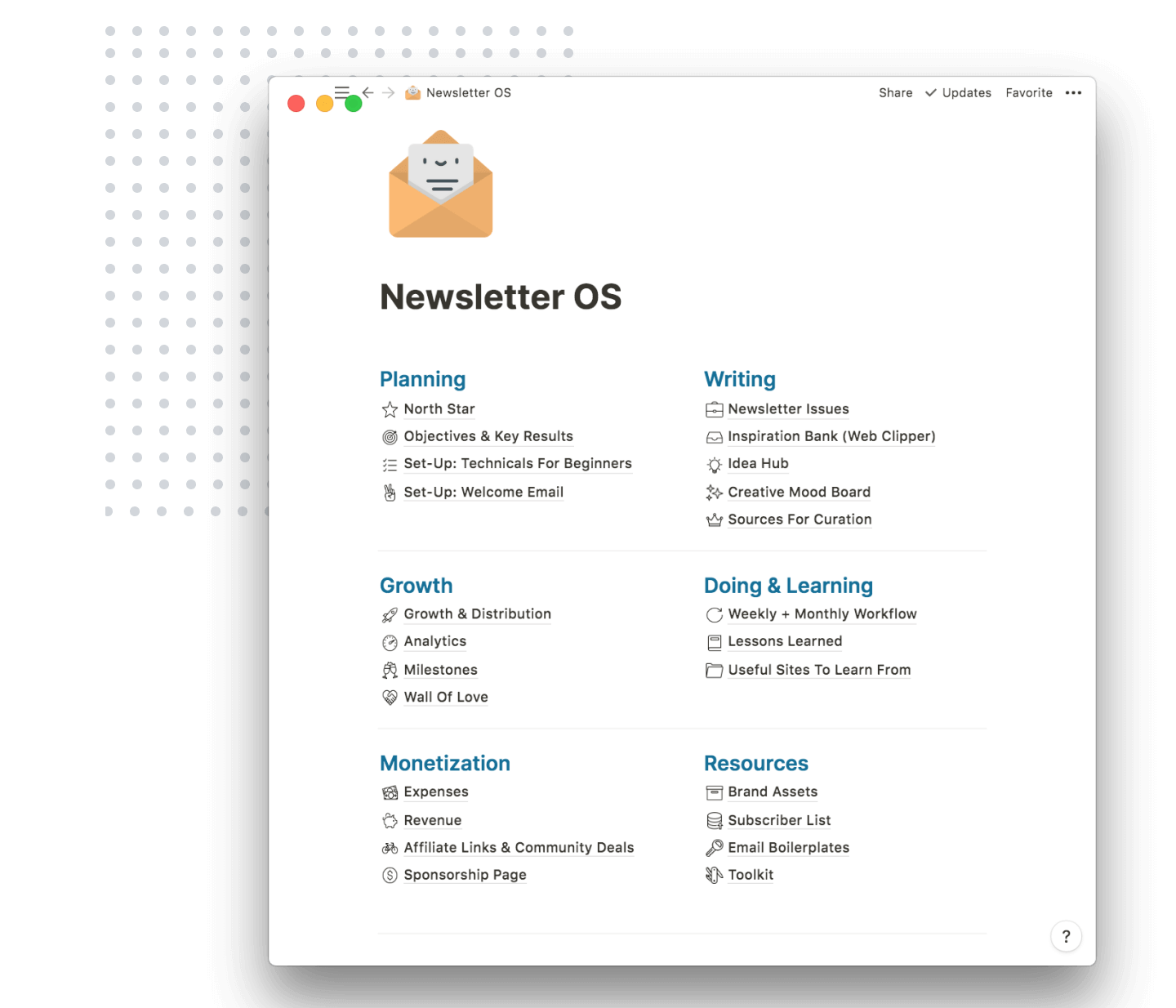 Building a newsletter is time-consuming.
Are you planning on starting a newsletter, or do you want to get better at running one?I've created a dashboard that helps you save hundreds of hours.It's a comprehensive & actionable resource packed with frameworks, templates, resources, and tools.
P.S. If you're new to Notion, don't worry, I've made it really easy with a configuration guide.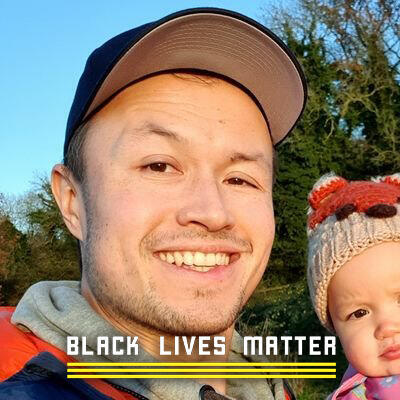 "It's epic! A cross between an e-book, a project manager, a dashboard & a wiki. It's clear that many hours of high-quality work have gone into it."
— Kieran Ball from LaunchMBA & Growth Lessons
The Promise
Get organized in your curation & writing process

Improve the quality of your newsletter's content

Grow your subscriber count

Learn how to make money from your newsletter
"Building a newsletter is no easy task – having this blueprint keeps it simple." – Bill from FixMyGrowth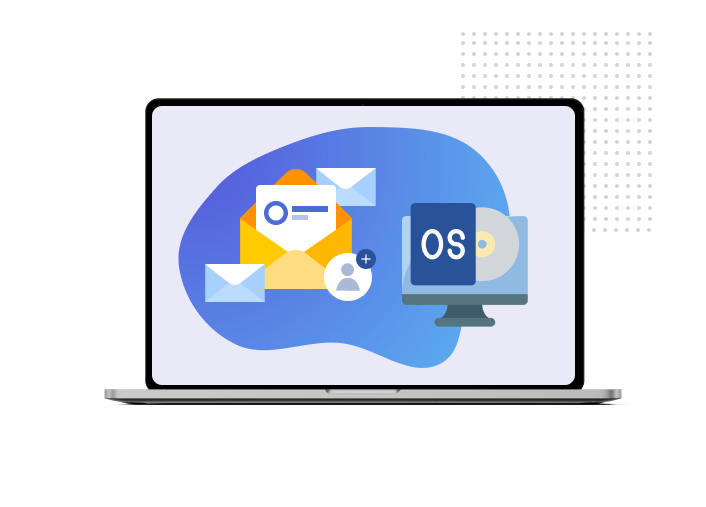 The Operating System for your newsletter
"The layout is fantastic and it's packed with resources & helpful info"
— Sam from SamJulien.com
Planning Section
To Help You Get Set Up
Curation &
Writing System
Actionable Growth &
Distribution Tips
Weekly To-Do Lists
Monetization Avenues
130+ Resources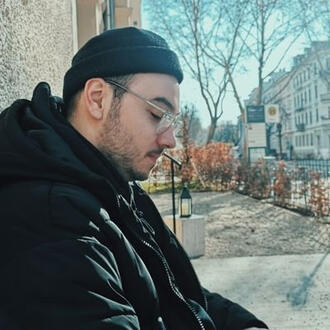 "If you are a newsletter creator this is THE product you need. It will boost your workflow and creativity, by saving you hours during your curation, writing, and growth process."
Philipp T.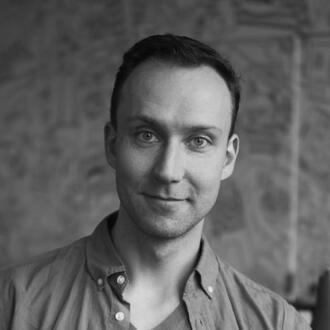 "It really is surprisingly helpful. I was using my own makeshift "dashboard" to gather things during the week but the Newsletter OS made me realize how inefficient I was being"
Mark Mulvey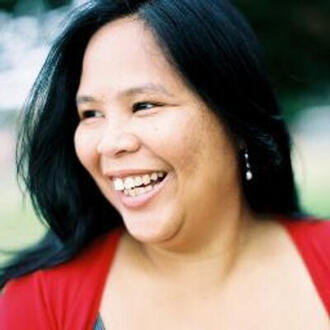 "This is worth every penny!
I'm reading it now and I can't believe how much information is in here to consume. Thank you!"
Luisa Brimble
130+ resources to help you write, grow & earn from your newsletter
Email Service Providers

Deliverability Tools

Monetization Platforms

Curation & Writing Tools

Design Tools

Tools to build Community

Analytics Tools & more!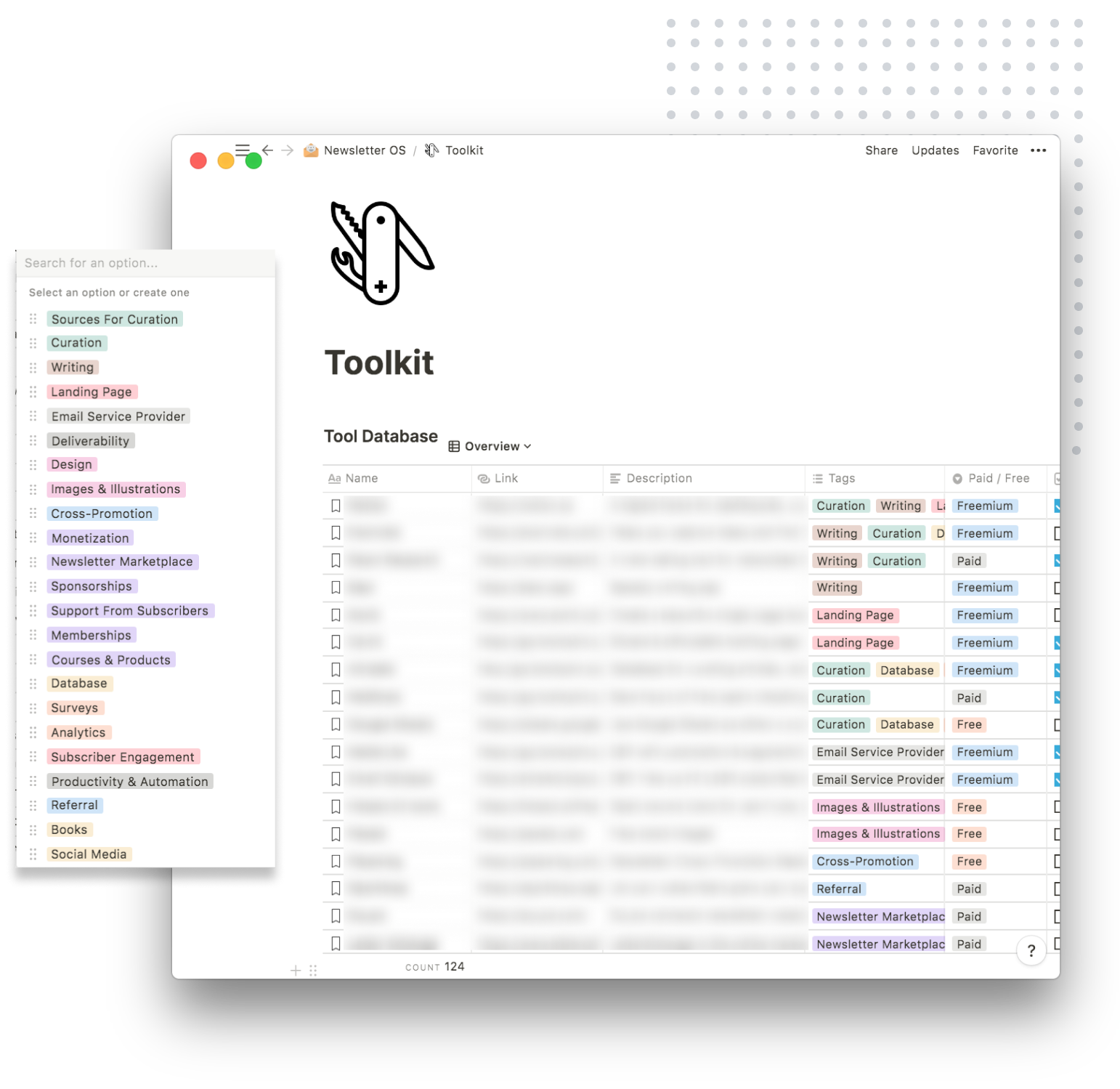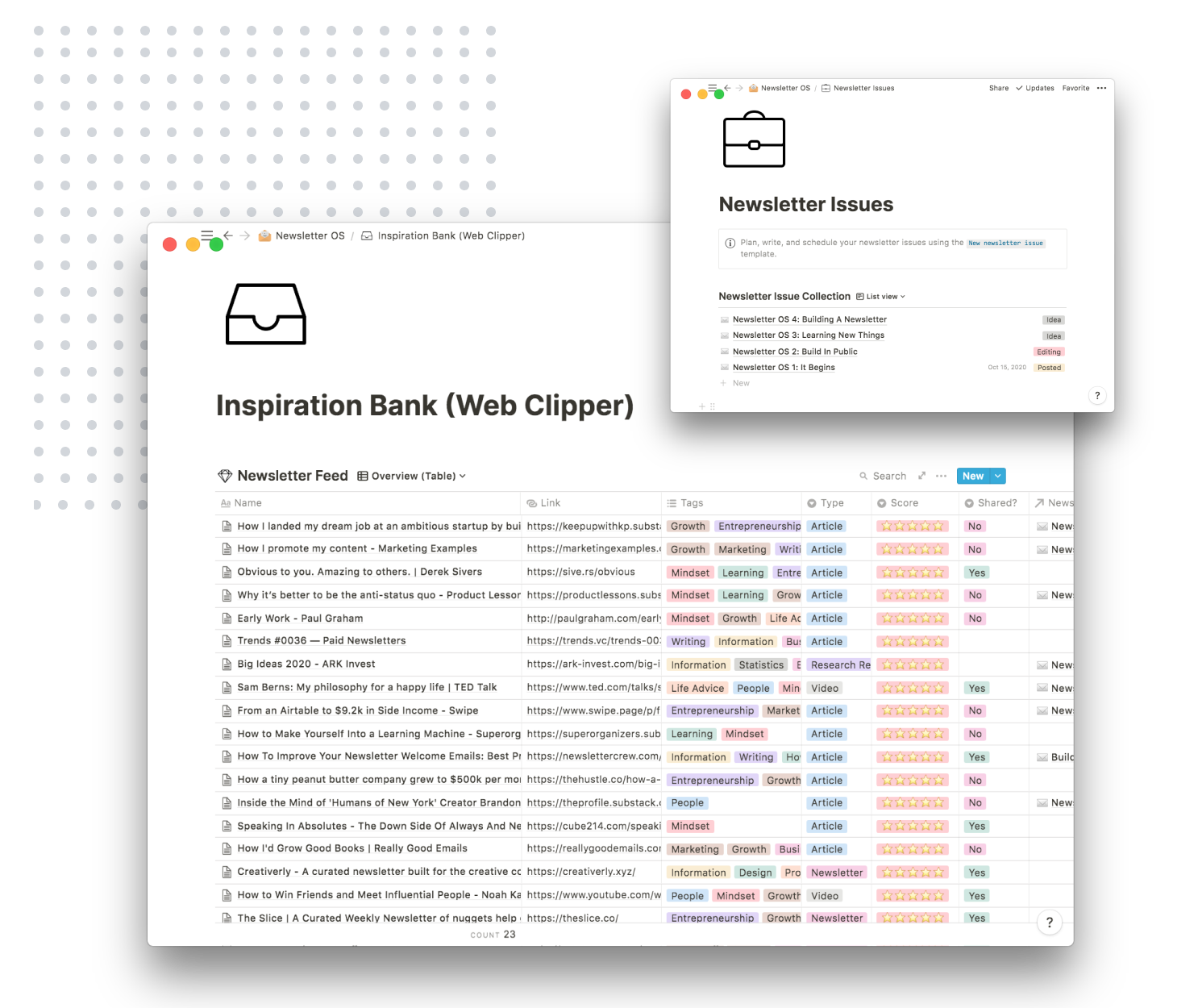 Curate quicker and write better
Get instant, customizable templates to help you plan, write & schedule your newsletter issuesUse Notion's Web Clipper to save interesting finds into a database that you can tag & link to your writing workspace
Gain newsletter subscribers
Access proven growth & distribution tips to grow your audience.Learn from others who spent hundreds of hours growing their newsletters to thousands of subscribers."There is so much to learn and utilize with this! Thoroughly impressed." - Ariz from HumanOS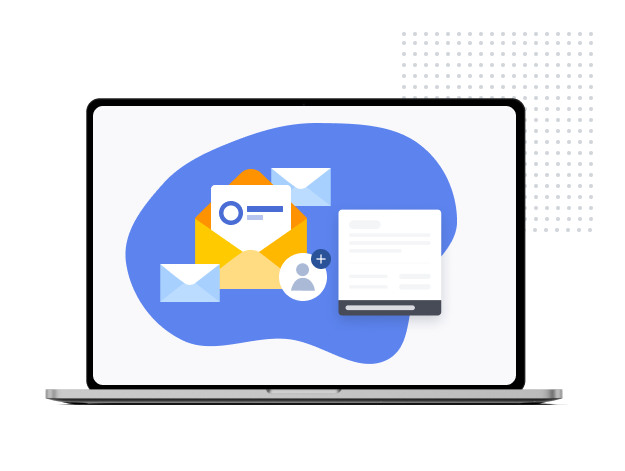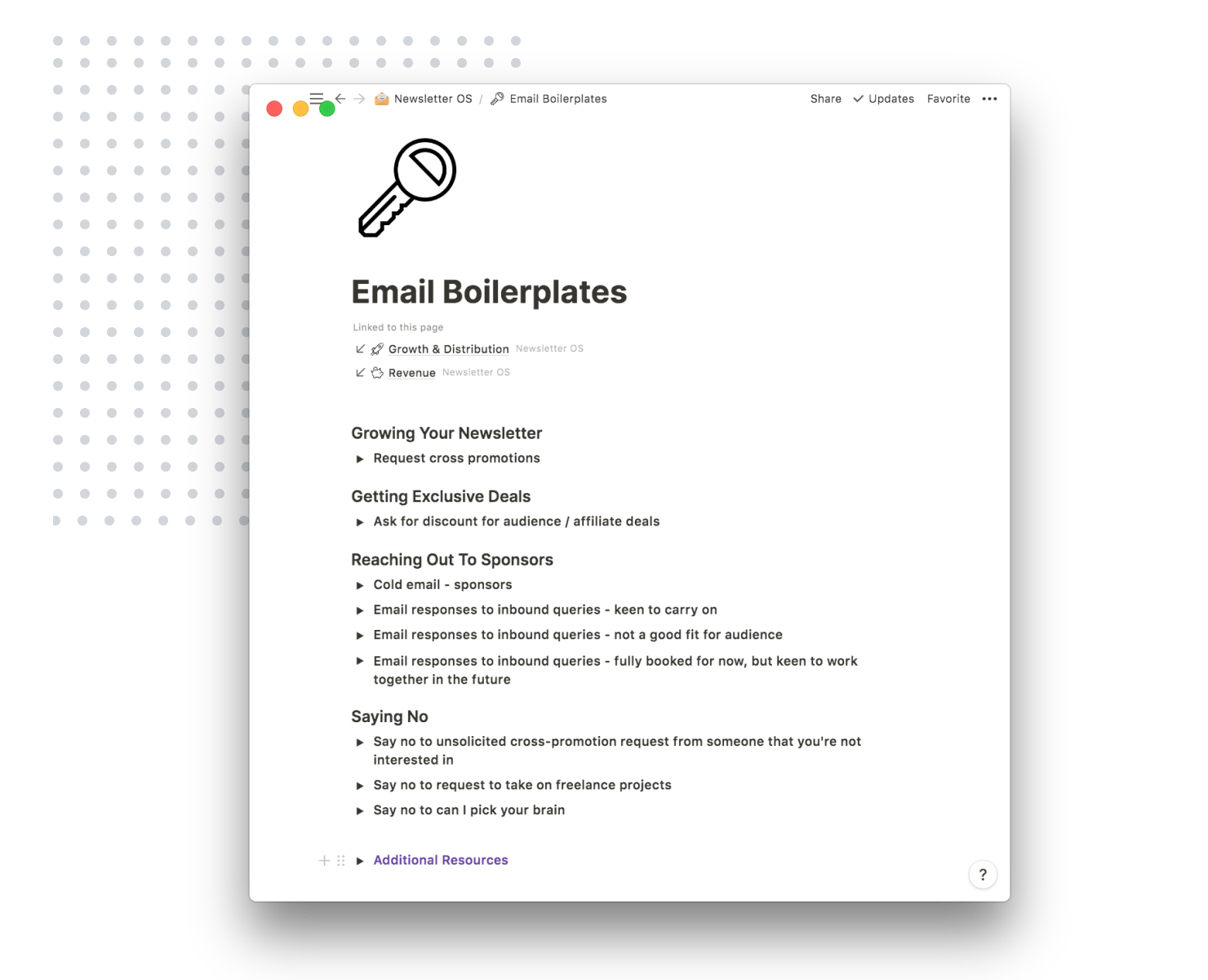 Save time using carefully curated templates
Get access to pre-drafted emails & sponsorship page templates.Build from a base and modify them to suit your personal style. Remix it. Make it yours.
Bring structure into your weekly newsletter workflow
Pre-built checklists guide you through your weekly tasks.Ensure you don't miss out on anything important!
(P.S. There's a lot more content within the Newsletter OS, but you'll have to purchase it to dig in!)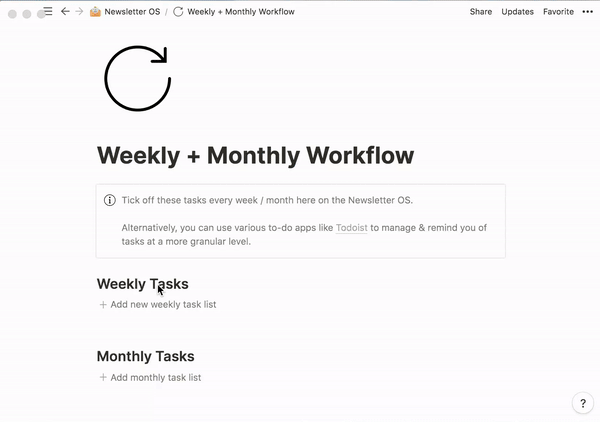 Pricing
No pesky subscriptions. One price for lifetime access.
$59
Newsletter OS
All-in-one Notion dashboard

Full configuration guide

Access to future updates

30 day money-back guarantee
$129
Newsletter OS + 30-Min Call
Everything in Newsletter OS
30-Minute consultation call to run through anything you need to know about starting, writing or growing a newsletter
After purchase, you'll instantly receive a link to duplicate the dashboard into your Notion workspace & can customize it to suit your workflow.If you're new to Notion, don't worry! I've created a comprehensive onboarding guide & provided instructions on how to use it. If Tim can do it, so can you 😉"Didn't understand the hype about Notion, but have to say that it really brings everything together. Love the Newsletter OS. I think I have my "North Star" planned out. #newnotionuser" - Tim B.
Do I need to pay for Notion in order to use this?
No. You can run Newsletter OS on Notion's generous free Personal plan without having to upgrade.
I haven't started a newsletter. Is this going to be useful for me?
Absolutely! This resource is created to help anyone who is considering starting a newsletter, or already has started writing one & wants to improve it.Newsletter OS has useful tips on getting set up for newsletter writers starting for the first time. Some people also book a consultation call to get help kickstarting their newsletter journey.
Is this really worth $59?
I spent 150+ hours working on this & collecting the best resources, so you don't have to. You'll get instant access to a blueprint and system to help build your newsletter.I've designed Newsletter OS to be actionable. It's not a book you read once & shelve. It's a system that you can use weekly.Josh from AEM.News got his first sale after following tips in Newsletter OS.I support parity pricing, so if you can't afford this, use the chatbot to leave me a message and I'll make it work!
Do you have a refund policy?
Of course. If you feel like the Newsletter Operating System hasn't provided you with any value, write to me & I'll give you a refund within the first 30 days. I'm passionate about making products people find value in and I'm confident in this product, but I want you to use it and be happy! The only thing I ask is that you let me know how I can improve.
Say hi on Twitter (@JanelSGM), my DMs are open. You can also use the chat widget at the bottom right of the page to reach out.
I also write a weekly newsletter for the curious, BrainPint.
If you're interested in interesting reads, tools and resources to make you smarter, you'll love it.
I care a lot about privacy and will never send you spam or sell your data.
I'm staying true to my advice in the Newsletter OS. Always take the opportunity to promote yourself wherever appropriate, like this ;)
Newsletter OS Wall Of Love
Don't buy @JanelSGM 's newsletterOS because it's super underpriced right now (even though it is. She'll be raising prices soon).

Buy it because it's the best source of newsletter knowledge for everything you need to quickly go from 0 to 1000 subscribers. https://t.co/GO3ubiI14J

— Lesley (@lesley_pizza) October 30, 2020
I was lucky enough to get an early look at Newsletter OS by @JanelSGM. 🤯

It's so much more than a dashboard. There are guides, templates, resources, and tools all expertly curated and written for you.

Upgrade your newsletter 👇https://t.co/f9Xx0KDq8N

— Curtis Cummings (@curtisjcummings) October 30, 2020
Just received @JanelSGM 's template this morning but can already tell this is going to be revolutionary.

There is so much to learn and utilize with this! Thoroughly impressed.

Still have quite a bit to port over from my old workflow but making good progress. pic.twitter.com/ptKCqD5TER

— Ariz ⚡️ (@arizkeshwani) October 30, 2020